5 Tips To Get In Shape For Pickleball This Summer!
Pickleball is a unique paddlesport that combines elements of tennis, badminton, and table tennis, for all ages and skill levels. According to the sport's governing body, the USA Pickleball Association (USAPA), the rules are simple and the game is easy for beginners to learn, but can develop into a quick, fast-paced, competitive game for experienced players.
Pickleball originated in 1965 on Bainbridge Island, close to Seattle, Washington when a group of friends created the sport for their kids who needed a new summer activity. The name "pickleball" is thought to be derived from a pet dog named Pickles. Pickles the dog was an aficionado of her owner's new game and would retrieve the balls, thus becoming the sports namesake. Today, pickleball is one of the fastest-growing sports in the United States. According to the Sports & Fitness Industry Association, in 2018, pickleball had a 12% increase year-over-year.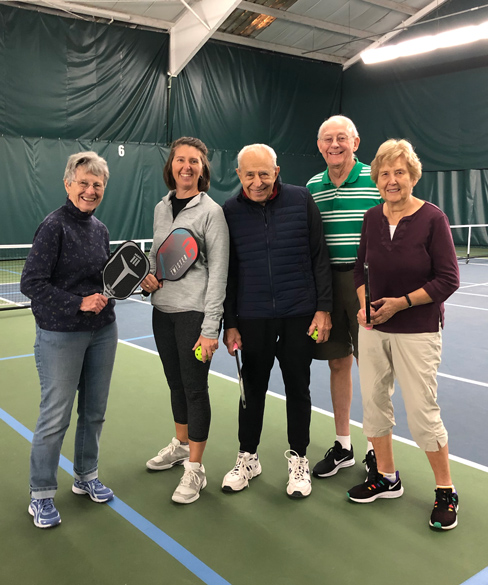 For seniors, pickleball has become very popular in retirement destinations like Florida and Arizona, and most recently gaining followers in New England. Pickleball has many benefits for seniors and fits the bill as the ideal alternative form of physical activity. It's an easy sport to pick up and it can be played leisurely or fast-paced, creating a level playing field for all competitors.
Pickleball has a fun atmosphere for players or 'picklers' to socially connect. Picklers play in close proximity which makes the game more social and they enjoy chatting before and after practicing or games. It is an engaging way to meet new friends and enjoy the sport's camaraderie.
The sport has numerous benefits and as summer draws near, it's the perfect time to pick up a paddle and head to the court with family and friends! Wendy Ward, oversees the junior and senior programs at the Guilford Racquet Club & Swim Club in Guilford, Connecticut. To help everyone get ready for a summer full of games, she has compiled a list of the Top 5 Tips to Get in Shape for Pickleball This Summer!
Practicing Hand-Eye Coordination
Pickleball requires a lot of hand-eye coordination which is important for the sport, but it also translates into daily activities as well. While hand-eye coordination keeps thinking skills sharp, its biggest advantage is to make sure that the eyes track the movement of the hands naturally. These skills play a role in good balance, handwriting, reading, directing objects and of course, playing sports with proficiency.
1.

Paddle Balance

In your home, take your paddle and balance your pickleball on it. Bounce the ball on the paddle in front of you 20 times, take a break and continue for another set of 20, repeating this skill.
2.

Hitting Consistency

Find an area with a solid wall and open space that is out of the way and not disturbing others. You'll use this wall as your makeshift practice partner, where you'll be able to hit your ball repetitively against the wall.
Cardiovascular Movement
Engaging in cardiovascular exercise makes your heart stronger which helps it to not to work as hard. Cardio Exercise can lower your blood pressure, regulate sugar and sleep, reduce your risk of high cholesterol, heart attack diabetes and more.
3.

Get Moving

Walking and running are important components of pickleball. Increasing your stamina by continually going for a brisk walk or run will assist with your game when it's time to get back on the court. Additionally, it'll assist in your cardiovascular health.
Stretching and Warmups
To decrease the risk of injury while you're participating in any physical activity, be sure to stretch and warm up your body before and after. Stretching reduces muscle tension, increases your range of motion, prevents muscle and joint sprains, increases circulation and can help you reduce muscle soreness post-workout.
4.

Become familiar with these stretches so when you're ready to start playing, you can easily warm up and reduce your risk of on-court injuries.
Arm Circles (Stretches Arms and Shoulders)

Stand with your feet shoulder-width apart and extend your arms parallel to the floor.
Circle your arms forward using small controlled motions, gradually making the circles bigger until you feel a stretch in your triceps.
Reverse the direction of the circles after about 10 seconds.

Marching in Place (Stretches Upper and Lower Legs, Ankles and Feet)

Stand with your feet flat on the floor.
Lift your right leg to a comfortable height and lower.
Repeat the same on the left leg.
March in place for 30 seconds, break for 15 seconds and repeat for 30 seconds.

Look Both Ways (Stretches Your Neck)

Stand with your feet flat on the floor.
Keep your head squarely over your shoulders and your back straight.
Slowly turn your head to the right until you feel a stretch in the side of your neck and shoulder.
Hold the stretch for 15-30 seconds, and then slowly turn your head forward again.
Repeat on your left side.
5.

Take It Easy & Have Fun!

When your activities do resume, you'll be excited and ready to get out on the court with your opponent or teammates. While you want to dive in and have a competitive match, this can cause injuries and stress to your body if you haven't done a lot of these movements in a while. Make sure to begin slowly and work your way up to a faster pace of playing and moving, it'll lower your risk of injury. When you're able to get back to playing – make sure to have fun and enjoy playing!
Take the time to incorporate these essential tips into your daily routine. The longevity of these actions will assist in your game and when summer rolls around you'll be ready to compete on the court at a higher level! Have fun and good happy pickleballing!
Wellness contributes to healthier living and is an important pillar in the lifestyle of Members at Evergreen Woods. Since 2018, Evergreen Woods has enjoyed an exclusive pickleball partnership with the Guilford Racquet & Swim Club. Throughout the month, Members visit the club to participate in pickleball games, where they are continually learning new skills from their talented instructors and socializing with new friends and neighbors. As a part of Evergreen Woods J.O.Y. (Joining Older and Younger) program, one week per month, the Evergreen Woods court time overlaps with the local middle school students. Instead of playing separately, their groups combine for a fun game of pickleball where both age groups can play together.